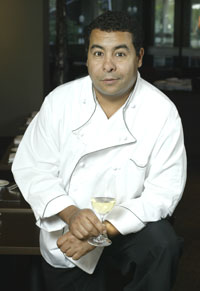 Jarfi's Bistro
on Bardstown Road

Jeff Jarfi has lived around the world…Morocco, Paris, New York…and now Louisville. He speaks 5 languages and cooks with an international flair, bringing together his experiences throughout the world. But home now, is Jarfi's Bistro, in Louisville, Kentucky.

Although he has worked in some of the world's most elegant dining rooms, he is most comfortable in an informal setting where he can design a varied menu, cook, and greet his guests. That became the format for Jarfi's Bistro.

In just a few months, Jarfi's Bistro has become a regular stop for business people, theater patrons, guests in downtown Louisville hotels, and in the Highlands. The beautiful setting, the casual feel, and the international menu have attracted a growing clientele.

"We have tried to offer something for a wide variety of tastes," said Jarfi, who is the restaurant's Chef/Owner. "People in Louisville are very sophisticated diners. They expect a variety of offerings, made of quality ingredients, for a good price. That's what Jarfi's Bistro is all about."

Dinner patrons can enjoy a Moroccan dish called "Chicken Tajine, made with olives, tomatoes and garlic or something as simple as a fine cut of steak.

Jarfi's new addition is the Sushi Bar for dinner. Those that have time can sit and enjoy watching their orders being made in the traditional manner, but for those in a hurry, there will be carry-out boxes. Sushi will also be available during Happy Hour nightly.

In addition to the Bistro setting, Jarfi's offers both on and off-premise catering. Jarfi's partner, Emily Fultz, has a long-reputation as one of the finest catering professionals in the city. The catering division does everything from small dinner parties to large weddings.